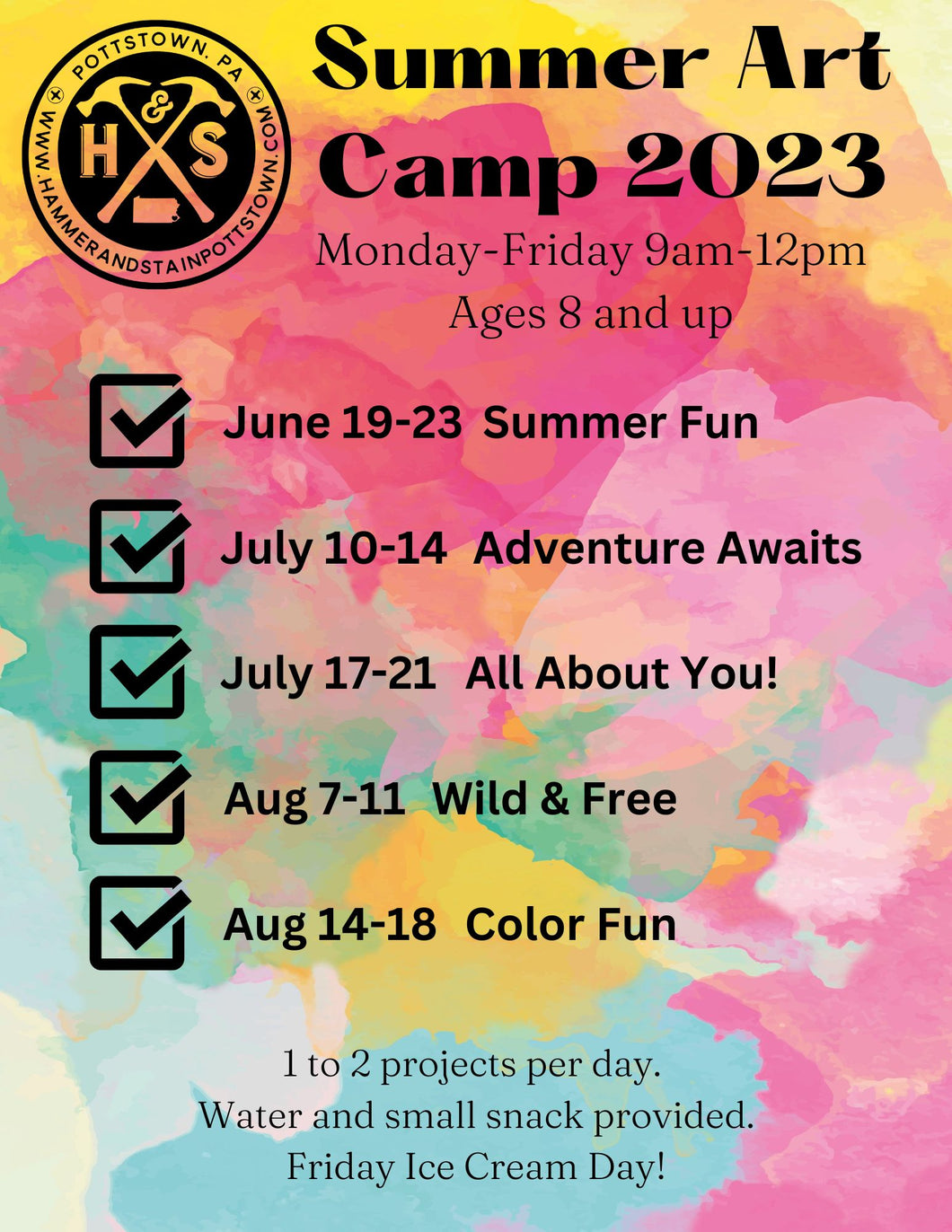 2023 Summer Art Camp
Hammer & Stain Pottstown
We are SO excited to offer our Summer Art Camp for Kids 2023.
Our summer camp is more than just wood. Each week is themed and your child will make a new project each day. We will incorporate the theme into each project we make. Our mini makers will bring a FUNctional piece home every day that they can display in their rooms and be proud of for years to come!
Cost is $265 per week. 
Early Bird discount until 3/17 $240
Sign up for one week or multiple, PLEASE read all details carefully:
* June 19-23 - Summer Fun
* July 10-14 - Adventure Awaits
* July 17-21 - All About You - SOLD OUT
* Aug 7-11 - Wild & Free
* Aug 14-18 - Color Fun
Camps run from 9am-noon each day. We will also provide a beverage and individual snacks each day. We ask that kids dress to get messy and wear clothes that are ok to get dirty. 
We will only release children to people noted on the registration. They must come in and sign out the child at pick up and we may ask for ID if necessary to keep everyone safe. 
How to register:
1. Simply click on the week you want, answer our required questions and add to cart. If you would like to add multiple weeks just add one to cart then hit back and add another.
2. Checkout...yes it's THAT simple
Due to the planning of staff and purchasing of supplies, if there are any changes in plans after booking please reach out as soon as possible so other arrangements can be worked out. 
Any questions please email us hammerandstainpottstown@gmail.com
We can't wait to create new memories with your children!
Regular price $265.00 Sale
Terms
Once your order has been submitted we are immediately beginning the process of production. We do not issue refunds for cancellations for this reason. If you need to cancel a reservation please email us at hammerandstainpottstown@gmail.com as soon as possible. For any cancellation we will be more than happy to hold your project and stencil in house and you can reschedule to come in at another time that works for you to complete your project. If you would like we can also offer you a Take-Home Kit for your project. We will provide you with the necessary supplies and directions to complete the project at home. If you have any questions on this policy please email us at hammerandstainpottstown@gmail.com Thank you for your understanding of this matter